Part of the reason why my parents are cool is that they've always been active & engaged in interesting activities. My whole family has a bent towards being productive & when I spend time with them, I get even more productive than I usually am!
My dad's always had a techno-scientific bent, & most recently he's been enjoying reading books from the late 1800's ... on physics! I'm just thrilled that he's been reading, because he's had some significant eye problems that sometimes leave him unable to see for days or weeks! Here he is, this weekend, mixing up a batch of copper sulfate ... just another science experiment he's whipped up to do with granddaughter Lauren!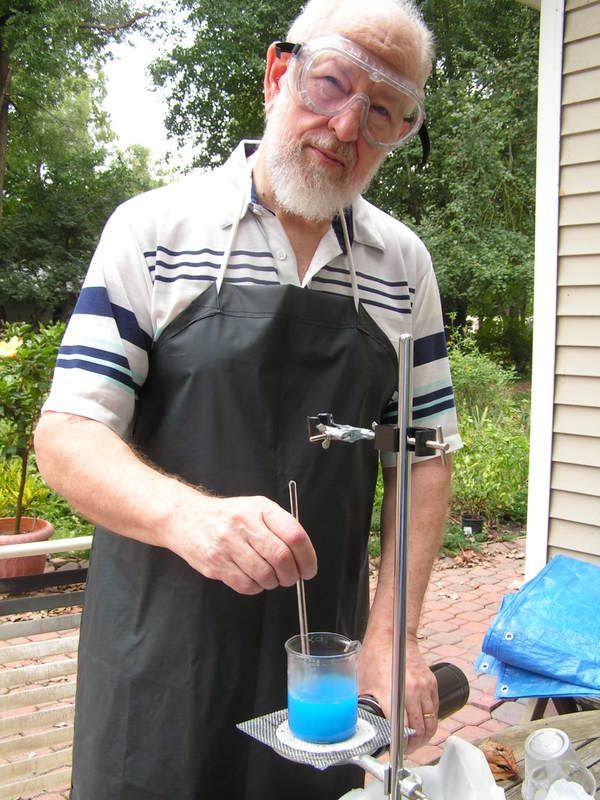 My mom's talents lie in other areas, and for the last 30+ years, she's been quilting. She makes a baby quilt for each baby that enters the extended family & makes each of us a quilt at some point in our lives. I actually own 5 quilts that she's worked on ... a Sunbonnet Sue she made for me as a child, with my in put ... the very first patchwork quilt she made in college in the early '60s ... a quilt she made for her parents with her own appliqued childhood memories ... a blue quilt of my own design which I pieced and she quilted ... and a double wedding ring wall hanging that again I pieced and she quilted. The quilt below is in "final production," and is destined for the aforementioned granddaughter Lauren, who has contributed some input as well, just as I did for my Sunbonnet Sue!
I count myself extraordinarily blessed to have such awesome parents. They are just amazing people & my life has been made more rich by their presence!