I won a photo shoot back in June of 2010 & I told the photographer we'd like to wait a few months, because hopefully we'd be adopting soon. We scheduled a session at the Arboretum for October 24th. At that point, we had no baby ... but we thought we'd at least get some nice pictures of the 2 of us, maybe to use in our adoption profile.
We were rained out. We rescheduled for December 19th. It was below freezing, but no snow on the ground, so the landscape just looked bleak and miserable. So we said we'd reconnoiter in the spring.
In the spring, I had the delight of emailing the photographer and telling her we had a beautiful baby girl to add to the photoshoot. We scheduled for May 15th. It was rainy all weekend & we both had colds, so we postponed ... again! ... for today.
The weather forecast was dicey, but at 1:30, it was looking pretty good for our 3 pm rendezvous. The photographer emailed us to tell us that the weather looked awful & she was cancelling. I looked out my window -- dark gray clouds intermixed with beams of sunshine. I was willing to take the gamble ... but didn't want to presume upon her kind offer, so we 3 just went to the pre-planned spot & set up the tripod.
It was ridiculously hard to get a good shot of the 3 of us (no remote for the camera, just a 10 second delay to race into the shot), but here's the best we managed: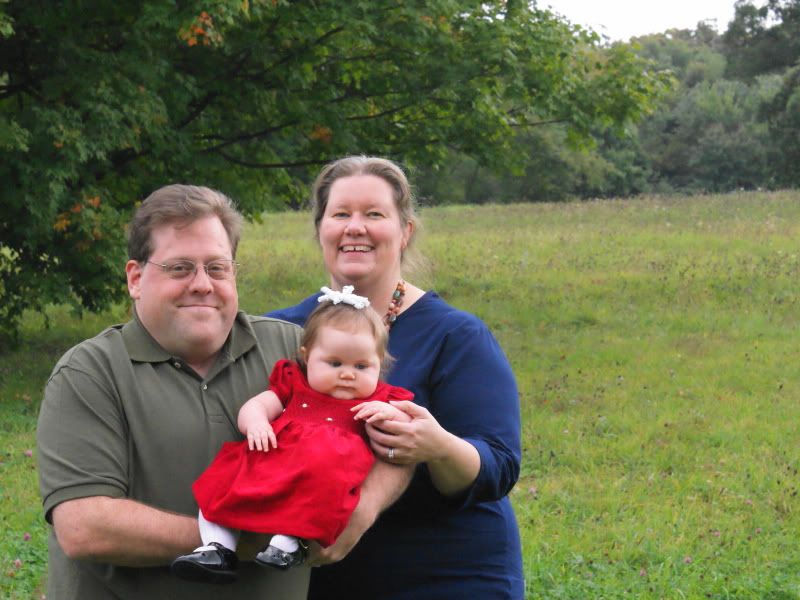 We did get some nice pictures of each other, though -- here I am with Alexandra:
And here's Alexandra and Daddy:
I am glad we went. And the photographer said she'd plan on doing a studio shoot on a weekday soon. Maybe that red holiday dress I swapped for last week will show up & we can get some pictures suitable for Christmas card use. I have no idea if that's considered appropriate -- photos taken in October for a holiday card mailed at the beginning of December? Seems reasonable!