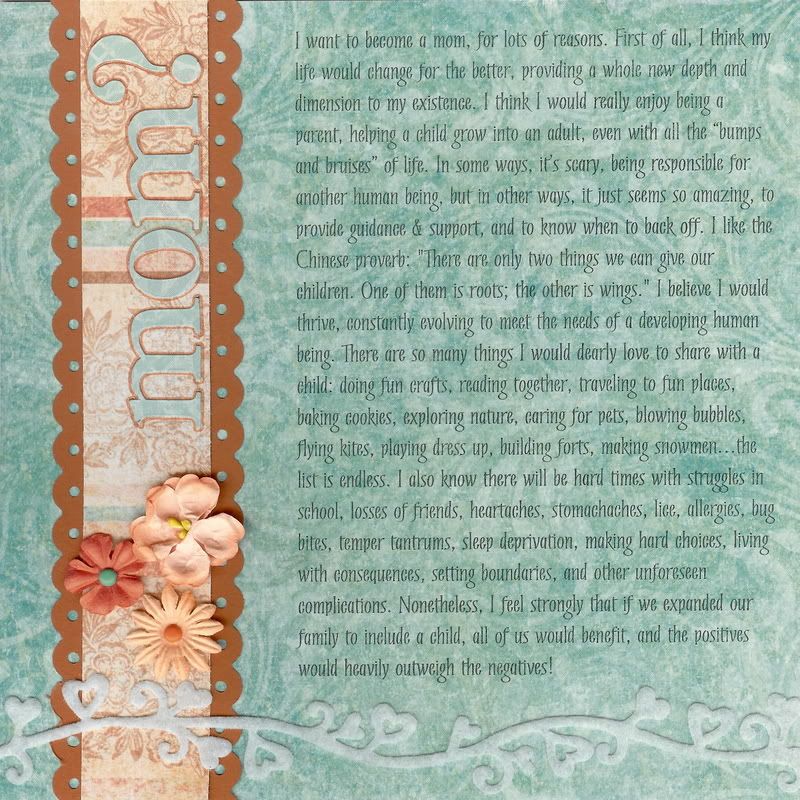 Today is Mother's Day & over at the House of Paper, we were challenged to do a page about being a mother, what we think makes a good/cool mom, or why we'd want to be a mother. Since we are within a couple of months of selecting an adoption agency & submitting an application, it seemed very fitting to document my thoughts on becoming a mom. There are so many reasons I want to become a mother ... and so many thoughts I have on the subject. You may click on the above image to look at it closely, or read the journaling here:
I want to become a mom, for lots of reasons. First of all, I think my life would change for the better, providing a whole new depth and dimension to my existence. I think I would really enjoy being a parent, helping a child grow into an adult, even with all the "bumps and bruises" of life. In some ways, it's scary, being responsible for another human being, but in other ways, it just seems so amazing, to provide guidance & support, and to know when to back off. I like the Chinese proverb: "There are only two things we can give our children. One of them is roots; the other is wings." I believe I would thrive, constantly evolving to meet the needs of a developing human being. There are so many things I would dearly love to share with a child: doing fun crafts, reading together, traveling to fun places, baking cookies, exploring nature, caring for pets, blowing bubbles, flying kites, playing dress up, building forts, making snowmen…the list is endless. I also know there will be hard times with struggles in school, losses of friends, heartaches, stomachaches, lice, allergies, bug bites, temper tantrums, sleep deprivation, making hard choices, living with consequences, setting boundaries, and other unforeseen complications. Nonetheless, I feel strongly that if we expanded our family to include a child, all of us would benefit, and the positives would heavily outweigh the negatives!

We still have to do a home study after we select an agency, and if everything runs smoothly, we'll most likely begin the process of looking for a birth mother in late 2008 or early 2009. In the meantime, please do keep us in mind if you become aware of any birth parents who are considering adoption for their children!