I've gone through my (overflowing) stash of Christmas scrapbooking & papercrafting items and decided to give away some of it to 2 new homes! So, here's the deal:
1) Listen to one of the Christmas songs playing on my blog (there's a red playlist box in the right-hand sidebar that should start up shortly after you reach my blog, but if it doesn't, you can always hit play ... or pause/stop).
2) In the comments section, list the song & whether it's one of your own Christmas favorites or just something you tolerate
3) Leave your name & some way for me to find you (a link back to a blog, an email address, etc.) and which of the two stacks of stuff you'd like to enter to win!
Stack 1: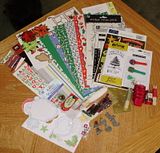 Stack 2: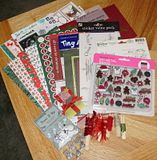 All entries must be posted by the time I wake up on Monday morning (December 1st)! Happy Holidays!