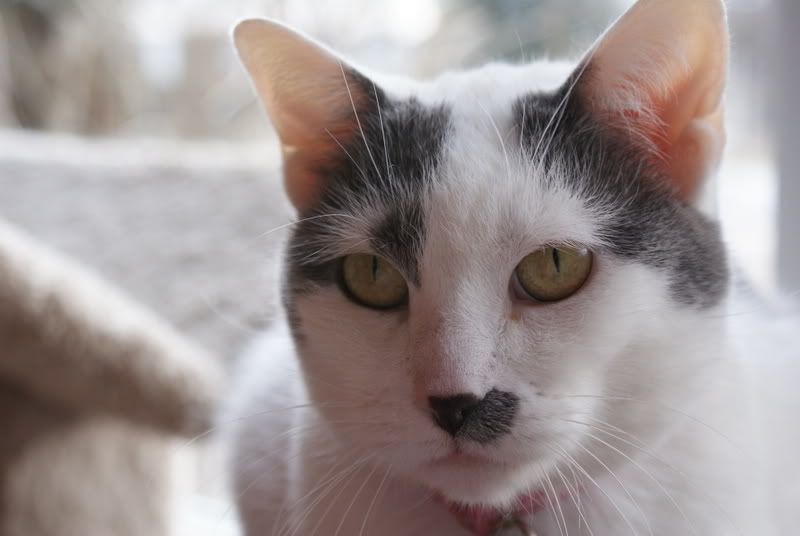 We let our sweet Isabelle go, tonight. She was a lady right through to the end. After her diagnosis last October of cancer, we knew her time with us was measured in a much smaller time span than we hoped for. When we took her in to the vet in mid-May, we saw how spotted her lungs were, on the chest x-ray. Until last Friday, you couldn't tell that anything was wrong with her. Then, she started having difficulty breathing from time to time. By Monday, she wasn't trying to trip us up in her eagerness to get her food. Tuesday she started spending most of her time just curled up, panting, and for the first time ever, we let her sleep with us. She didn't get up to move, for more than 10 hours. Wednesday morning, we talked & my honey made the call to the vet. Tonight, we let her go. It was time, too. So many things faded in a matter of less than a week.
She ceased her non-stop yammering for food when it gets remotely dark or she's remotely hungry.
She didn't race to the kitchen when a can of tuna was opened...heck, she didn't even make an appearance.
When laying near me, she didn't try to inch onto my lap or stick her head under my hand for head rubbings.
She let us touch her tail without squawking (she really hates having her tail touched).
She didn't run to the door anymore when we came home.
In short, she just stopped being Isabelle, and we knew it was time.
Today, for the 2nd time in the 7 years we've had her, she actually growled. That was in response to me trying to be playful & rub her belly.
So, even though her body was still laboring away, the sparkle that was our loveable Isabelle was gone. We could see it, easily, knowing her personality, but she was a classy dame right to the end. When we got to the vet's, their staff couldn't tell we were there to put her to sleep, because she was being her usual docile & relaxed self.
They gave us all the time we needed, and we said our goodbyes. I lingered a while, after she passed away, stroking her fur & whispering into her ear: "You were the fluffy lap cat I always wanted. I will always love you." And then, I flipped her ear inside out, the way I always did to play with her. Goodbye, my precious thing. I miss you.