Today we celebrated our 7th annual Cookie Day! We made 10 different kinds of sweets, my parents brought up another 3 different ones, and my mom-in-law brought 3. I think. I kind of lost track at that point ... which is funny, because we had 29 more guests, 27 of which all brought something to contribute (sometimes as a family unit, I grant you ... but still ... we had an awful lot of variety).
Here is the dining room table as we set up:
Dave was very excited to have all kinds of treats to nibble on. See how pretty the table is? Take note of the chocolate covered cherries (thanks, Dad!!) on the two tiered red & green stand. They were the first items to disappear from the table!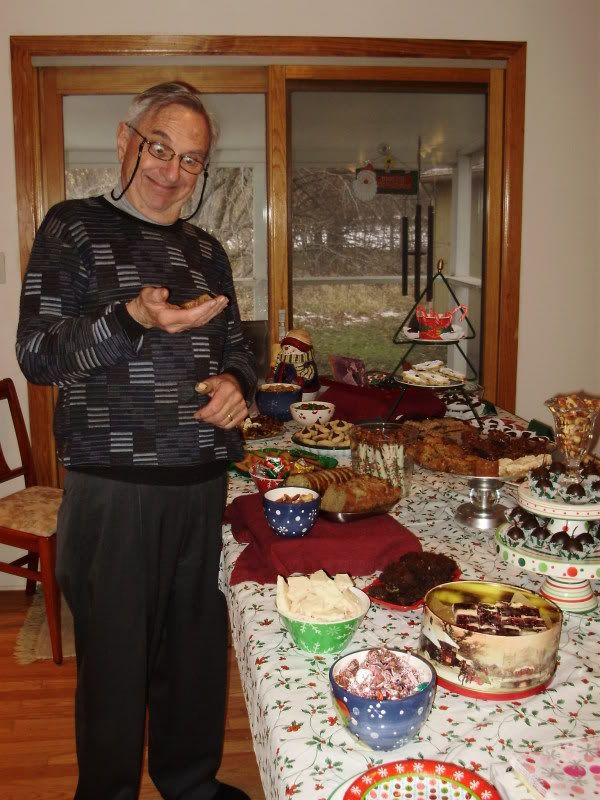 We had so many things on the dining room table, cookies had to be placed downstairs in the family room, on our gaming table & on my desk. I think all the folks that wound up downstairs were pretty happy to have their own stash!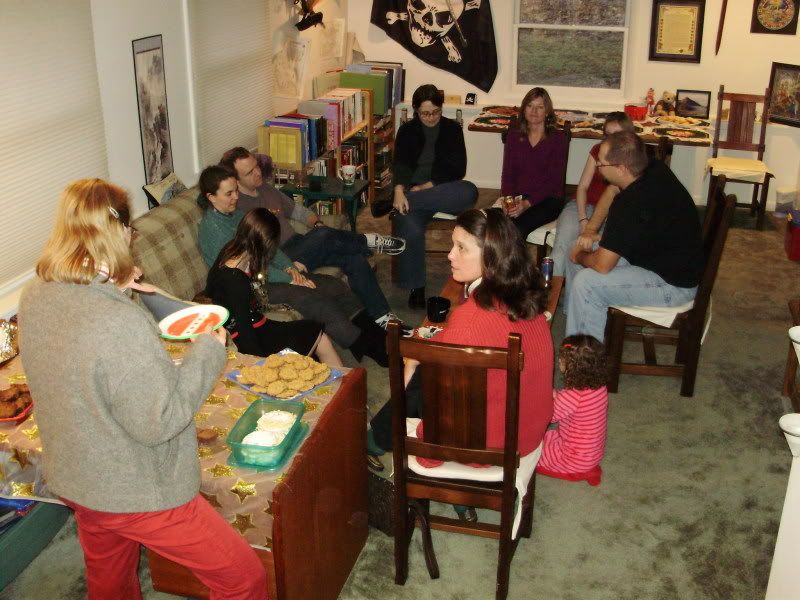 The weirdest cookie this year ("Grinch Cookies") was an admitted failure on the part of my brother-in-law, Seldon. He had a really great idea to go for a red and green theme, making a thumbprint cookie with a spicy cinnamon apple jelly center. Well, he made a few too many tweaks and the turned out weird looking AND weird tasting. He happily pitched them all after sharing the story. And yes, trust me ... they were that bad. Not disgusting ... just bad.
Now here is my favorite cookie. There is currently
one
left. And I'm
not
sharing it.
John
made these unbelievably light & sweet peppermint dusted confections. I need the recipe. (I think he may post it on
his blog
!) So do 3 other people who tried them after John headed out with his 2 sons in tow.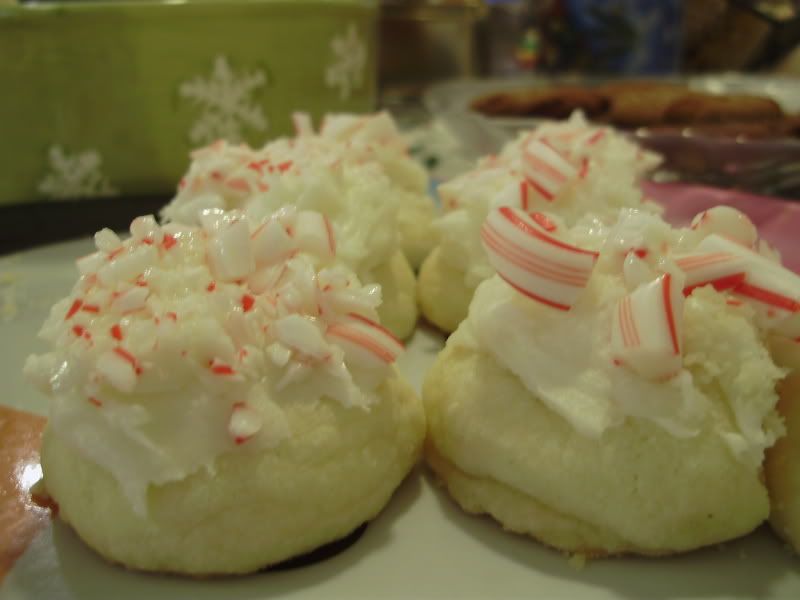 This is what the table looked like at about 3:30 ... 2 1/2 hours in to the party & 1 1/2 hours to go.
And here it is at the end of the party! Yeah. We have cookies leftover. This may be due in part to the fact that I ate one of those delicious peppermint cookies, a bite of the horrid Grinch cookies, 1 piece of my dad's delicious chocolate covered coconut balls, and 1/2 of a pizzelle cookie. I have put some cookies away (including that one peppermint one!) for me to have at a later date.
And now ... all of the dishes generated by this event! It's actually not too bad! We're having some pizza & tackling them afterwards!
So, if anyone needs any cookies ... just let us know. I'm going to start making a list of people to share them with, and I am sure we'll still have some to spare!
Oh, and along with too many kinds of beverages to count, we served
Teavana's Gingerbread Cookie tea
... it was freaking awesome (see my review
here
). Pink, too ... but awesome. Very delicious & holiday-y!
Here's a list of the cookies we made:
Death by Caramel Bars
Kiss Cookies
Chocolate Dipped Pretzels
Peppermint Bark
Campfire Marshmallow Bark
Snickerdoodles
Northwest Pecan Treats
White Chocolate-Raspberry Slices
Dark Chocolate Browni
es
Cranberry-White Chocolate Cookies
Gingerbread Cake with Blueberries
Breton Brittle
Sugar Cookies
Amish Friendship Bread
Banana Nut Bread