The timing of Shimelle's prompt, about holiday visitors, is just perfect! My parents arrive in a matter of a few hours, to celebrate Cookie Day with us, for the 6th year in a row! We usually do not see them on Christmas, so this is kind of "our" holiday get together. It works out great - they come up the day before & we have plenty of time to hang out, plus they are just magnificent at pitching in to help with the set up for our massive party. Depending on the weather they head out the following day, or they stay over another night. We've got snow in the forecast, so we'll have to see what makes the most sense. I appreciate their trekking up here to see us, so very much! My parents ROCK!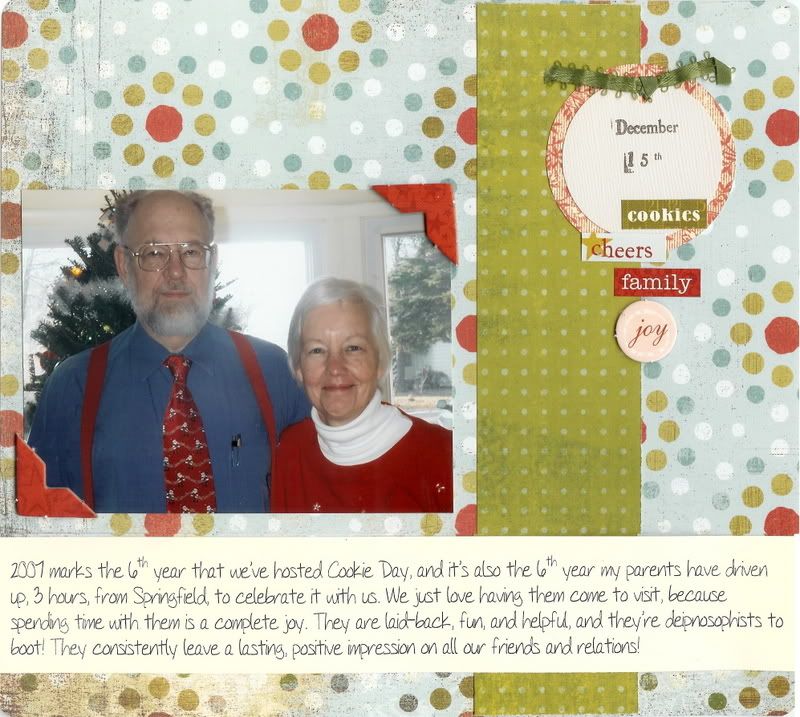 Today's text reads: "
2007 marks the 6th year that we've hosted Cookie Day, and it's also the 6th year my parents have driven up, 3 hours, from Springfield, to celebrate it with us. We just love having them come to visit, because spending time with them is a complete joy. They are laid-back, fun, and helpful, and they're

deipnosophists

to boot! They consistently leave a lasting, positive impression on all our friends and relations!"